A visit to the Open Air Museum Glentleiten is one of the best family trips you can make in Bavaria. During the whole summer season, 'from St. Joseph till St. Martin' (in Bavarian 'von Josephi bis Martini') – that is, from 19th March till 11th November, - Glentleiten lets you experience the best of the Bavarian tradition. For big and small. Even in rainy weather.
The museum is located at 750 m altitude on the hills in the outskirts of Großweil, you can easily get there from Grainau by car (driving time approx. 40 min.). Since 1973 old Bavarian houses from the whole alpine region have been collected here, the oldest building being about 500 years old. The key focus at the museum lies on Bavarian tradition, culture and history, as well as technology and agriculture. Church holidays, like 'Kirchweih', Feast of Corpus Christi or Assumption of Mary, are celebrated just like in the old times, with traditional food and folk music.
10:00 am: We arrive in Großweil by car. From the highway A95 we take the Exit 'Kochel / Großweil'. In the village we buy some fresh baked croissants for a late breakfast and then go to the river bank to see one of the Loisach drops. On a hot summer day a breakfast at the drop with its impressive waves is a very pleasant experience. The cool air with minuscule water particles is refreshing, the loud sound from the falling water creates an exotic atmosphere, and the children can sprinkle themselves with water as long as they want - at last! It was a good idea to take some clothes with us.
11:00 am: After breakfast we enter the open air museum that lies on an elevation just a couple of kilometers from the village. The Glentleiten is very popular, so the parking lot is always full, but we are lucky enough to get a free place. The small shop at the museum's cash desk offers handmade souvenirs and food, here is the right address to buy something special for your beloved ones. Next, at the museum plan we try to agree on a route that would make everyone happy, which is not so easy with three kids.
11:30 am: We finally decide for the left trail and in about 15 Minutes we stand at a lovely picturesque pond. From here the water runs into a little stream that works as a power supply for numerous workshops located on the bank: a whetstone production, a flour mill, a saw mill and a blacksmith's workshop. This was exactly our goal! The kids run ahead and discover a giant wooden ball track that follows the forest path on its way downhill. Everyone buys a ball (50 Cent) and from now on the way is no longer boring. The children forget about the workshops and would definitely love to spend the whole day here at the ball track.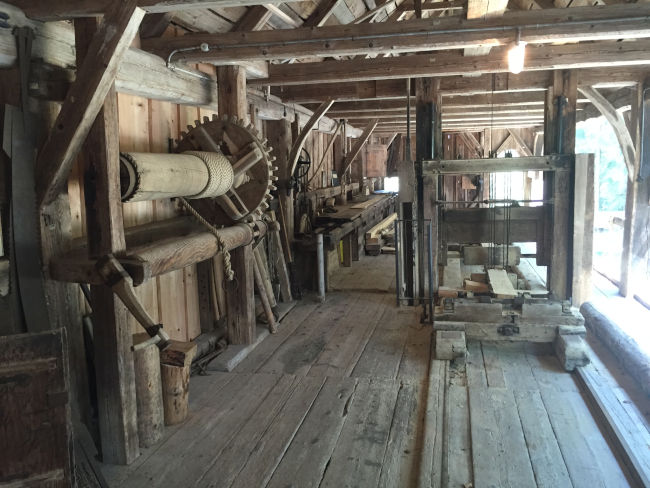 12:30 pm: After we have discovered the ingeniously built tools and machines from the old times, the trail goes further to the coal mill. The kiln is operating at its full capacity today, here a group of dirty but enthusiastic dads with their even dirtier kids are busy producing charcoal. As we adults are only there to look, our kids join in and stay there till they get hungry and dirty, just like the others.
1:00 pm: We walk uphill and after a few minutes make a stop in the 'residential area' of the museum. In the past, these wooden houses were actually lived in, all of them come from alpine localities south of Munich. This unique collection is regularly enriched with new exhibits, which are saved from demolition this way. Along with residential houses, those include farms and barns, workshops, grain storage, flour mills and baker huts. (By the way, in the old times these were very small stone huts that were first heated through with fire, then the dough was left there until the hut cools down, so bread was slowly baked at low temperatures.) Beside that, at the Glentleiten you can find an original forest hut, a fisher's hut, an apiary, a lime kiln with wood tray and a lime pit, traditional alpine cheese huts ('Almhütte') from Berchtesgaden and a chapel from Kirnberg. Some of our local traditional Werdenfels hey huts ("Heustadel") from Partenkirchen, Wamberg and Mittenwald are there as well.
Following the extensive efforts to clean the kids from charcoal and feed them with some sandwiches, we enter the 'Mirznhäusl'. (Please mind that every old Bavarian house used to have a proper name, and people living in the house were actually named by their house name, not by the family name as you would believe.) Here in the 'Mirznhäusl' you can discover the ancient house with a pencil and a notepad in your hand, solve riddles and look for hidden objects - even in unexpected places, like a chamber pot. The quest ends with a small prize that kids should get themselves from a locked safe.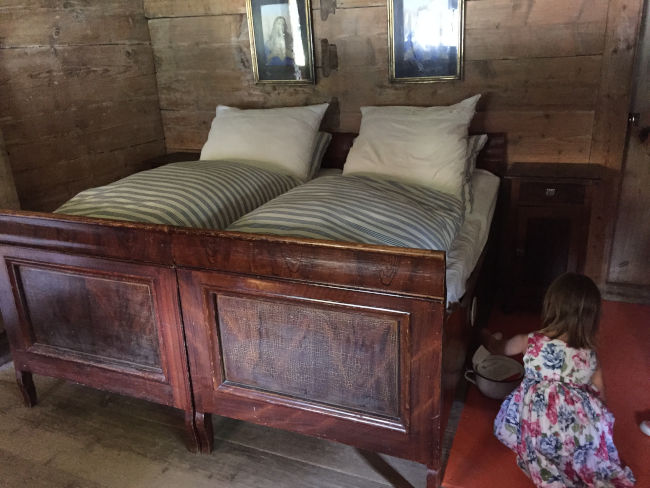 2:00 pm: The kids are now willing to join a pottery painting workshop. As part of the 'Open Workshop' program, visitors can take part in exciting activities for big and small: producing homemade cleaning agents, painting earthenware, constructing windmills or bird feeders, and much more. Of course a good command of the German (or rather Bavarian) language would be a great advantage. For those interested, there is a wide choice of old techniques to learn: weaving, embroidery and lace making, fabric printing, spinning, rope making, basket weaving, reverse glass painting, making puppets or horses out of hay, etc. If you are eager to learn more about Bavarian national clothes, at the Glentleiten you can try traditional tailoring, gold embroidery, producing leather trousers (the famous 'Lederhosen'!) or embroidering suspenders.
Traditional 'male' activities are represented as well, like beer brewing (!), beekeeping, blacksmithing, saddling, turning, carving or carpentry, so a day with the kids won't be boring for any dad. You can even try playing the 'alphorn'. In the meanwhile, the kids can keep themselves busy: discover the Glentleiten with a detective, bake apple fritters, make buttons, produce mustard, or just take part in a 'farming afternoon' and harvest potatoes. For the mummy there is a wide choice of workshops and day seminars like 'Apples & Pears' (a weekend around historic varieties), 'From Flax to Linen', 'Kachelofen - Producing Tiles for Traditional Stove', or 'Candles from Beeswax'. Of course, if you are looking to learn some practical skills, for most workshops a good command of Bavarian (or at least German) would be a great advantage.
3:00 pm: While the kids are still painting, we make a round across the cheese chalets ('Almhütten'). The alpine meadow makes this part of the museum a great background for small hikes and botanic excursions. Here you can learn about cheese production and life on alpine pastures in the old times. We visit the old cheese chalets with an excursion and let ourselves submerge in the life of a dairywoman who spent the summer in this hut on an alpine pasture in Berchtesgaden with her animals many years ago.
4:30 pm: Now it's time to pick up the children from the workshop and we visit the 'Kramerladen' - a joyful combination of a traditional tavern and a shop with homemade delicacies. On holidays celebrations are held here in the 'Kramerladen', with traditional kitchen and live music. Every Thursday they offer fresh-baked bread, also, you can buy many other homemade products anytime here. After some shopping we leave Glentleiten to enjoy our dinner at the 'Kreut-Alm'.
5:00 pm: The 'Kreut-Alm' is a traditional restaurant located up the hill just 200 m from the Glentleiten Open-Air Museum. Beside very good Bavarian gastronomy and great cakes, visitors can enjoy a tremendous view on the Kochelsee and the surrounding mountains. The restaurant is a popular destination on sunny days when the 'biergarten' with its old shady chestnuts becomes a special attraction. The restaurant is open in winter as well.
Tipps & Infos:
The Glentleiten can be reached with public transport as well: take a train to Murnau and then Bus 9611 to Großweil (departs from the train station).
A special experience at the Glentleiten is the long Saturday brunch in the 'Kramerladen'. Also, try out 'Frühschoppen' with music to have a better understanding of Bavaria.
In winter the Glentleiten is closed, but it opens annually during the 1st Advent weekend when visitors can attend the traditional Christmas market.
Kreut-Alm in Großweil (Link in German)
Looking for accommodation for your trip?
---